Perth
October 13th-15th, 2004
An early start today. My alarm went off at 3:50am & I bounded out of bed feeling remarkably awake. Hopped into the shower, and instead of feeling even more refreshed when I got out, I felt more tired. My body was saying '"who are you trying to kid - I know it's the middle of the night!".

Headed off to the airport at 4:30am. Pity traffic isn't that light all the time. Rick dumped Dilys & I and the bikes and took the van to the long term car park. Getting there & back took more time than getting to the airport & the plane was already boarding by the time he got checked in.

Quick dash through security & through the gate enabled us to join the long queue to actually get on the plane.

4.5 uneventful hrs later & we were in Perth reassembling our bikes. Had lots of fun trying to figure out how to fit everything on the bike. I wonder what I can ditch. Do you think Rick would notice if I left his thermarest & mug behind? I guess he probably would - probably wouldn't let me sleep in the tent! Ah well, with stuff strapped on top I managed to get everything on (just!).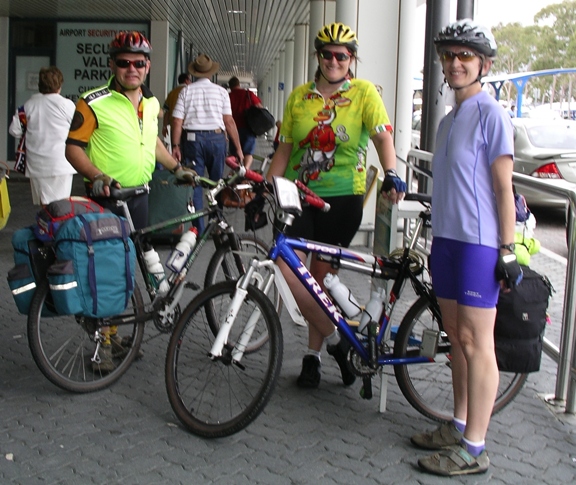 Quick photo at the airport of us by one of the WA 'welcome' people and we were off! First impressions of Perth this time around? Brrrr! After hot, hot, hot yesterday (and for those in Sydney - yes I've already heard about the record temps there today), anyway Perth was cold.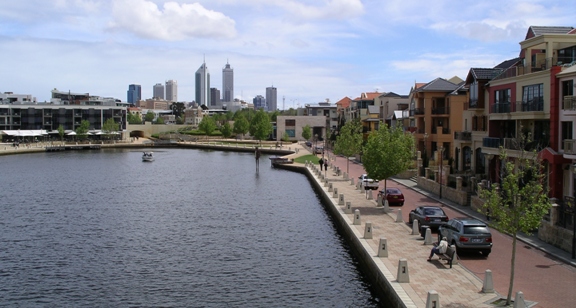 A pleasant ride along the bike path for 7 or so km's and the sign "tea rooms open" beckoned us, as although our watches said 11am, our stomachs were saying "food! Gimmee food!". Sandwich, two coffees and a cake later, we were on our way again.

More pleasant riding along the river followed by some pondering as the path ended & the signage was non existent. Resorting to a more detailed map, we found that the monster hill was in fact the way we wanted (needed?) to go. A few photo stops along the way, and before long we were in Perth.

Being the sort of people that spend more for lunch than accommodation, we did notice that something was missing when we got to our room. Let's see. Beds: 1, 2. People: 1, 2, 3. Hmm, discrepancy here. Went was down to reception & pointed this out & the told me that housekeeping was bringing the extra bed. Woohoo - a trundle bed! As expected it was saggy, baggy, so I am now (having drawn the short straw) typing this while lying on a mattress on the floor. Trundle bit is now sitting unwanted in the corner. Had a bit of a wander around Perth this arvo and took in the sights (shops).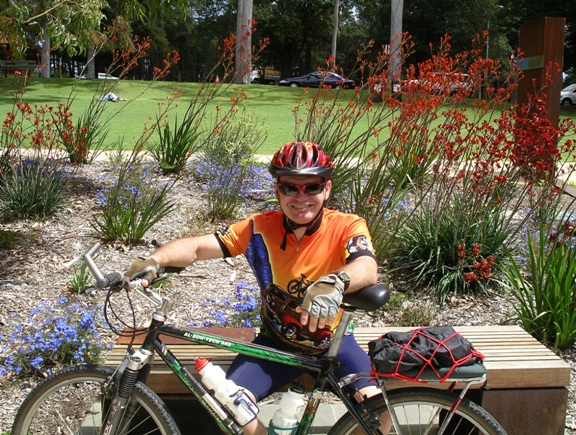 Day 2 and not a whole lot to report. Ran around getting gas canisters & bus tickets, before heading over to Kings Park, where we saw carpets of wildflowers. Today was far warmer than yesterday, with a real sting in the sun. There was however a fairly cool breeze, and it wasn't very warm in the shade.

Lunch was a much cheaper affair today with rolls/sandwiches. Dilys thought it might be fun to empty her cheese & salad on the grass before eating it. I personally didn't think that this looked like a good idea, so I got mine out more carefully.

Sadly tonight we had planned to do a twilight winery/dinner cruise, which included a cruise up the Swan, cheese & antipasto platter, 3 wineries, dinner and dessert, plus a brewery on the way back. Unfortunately, they needed a minimum of 4, and not one of the other tourists crawling around Perth booked in. Bummer. We're going to try again tomorrow night. If not then, never!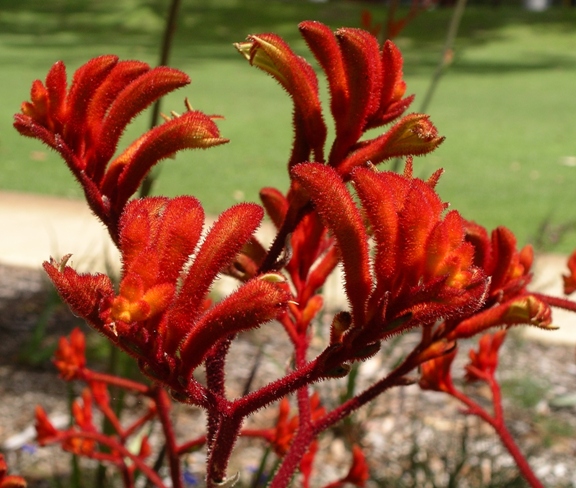 Where the flowers were blooming.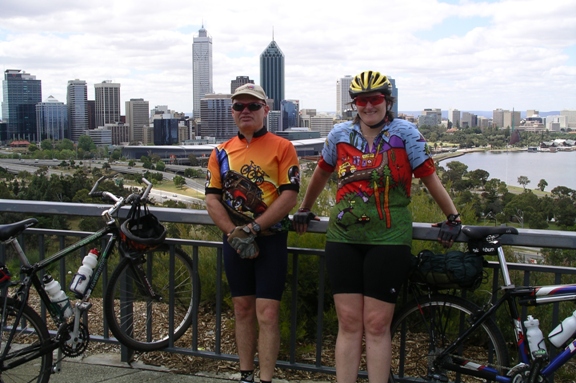 The city from King's Park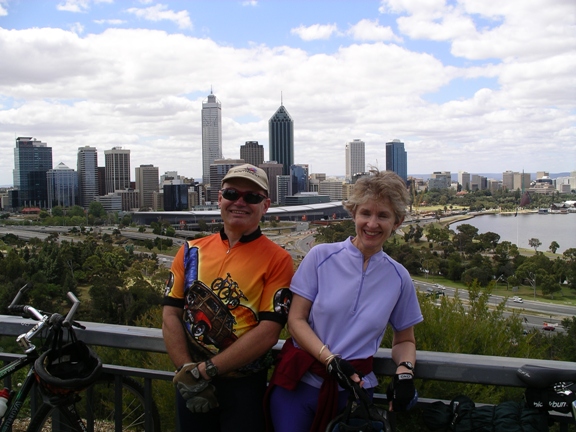 Same again, but this time with different people in front!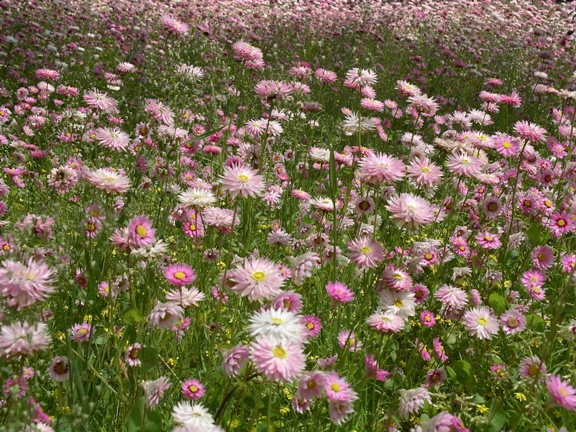 Carpets of wildflowers!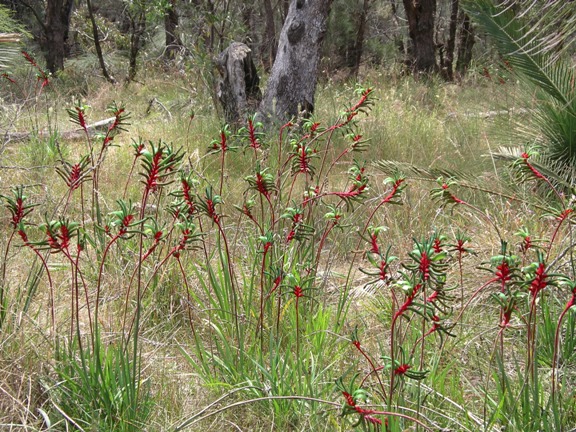 More flowers...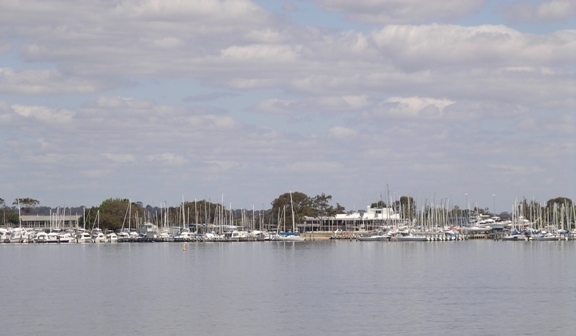 Boats on the Swan River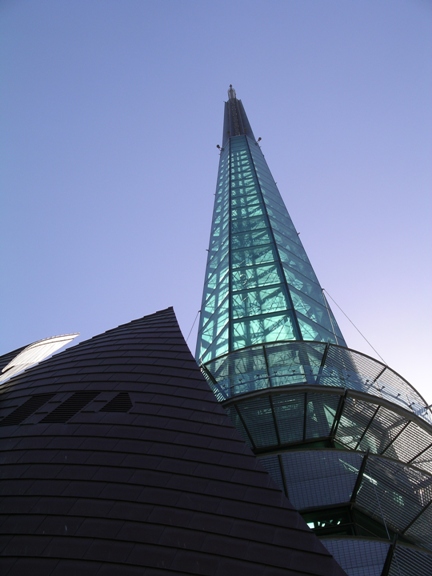 Funky glass building (another way of saying I don't remember what it is).