Middlemarch to Hyde
March 14th, 2006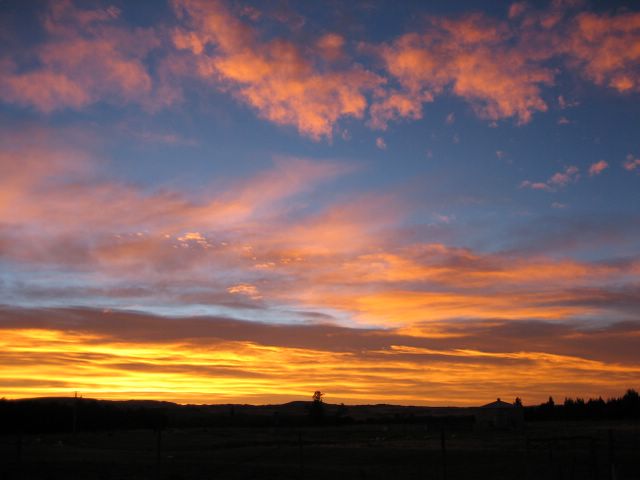 Well after a wonderful sunset we were also treated to a wonderful sunrise.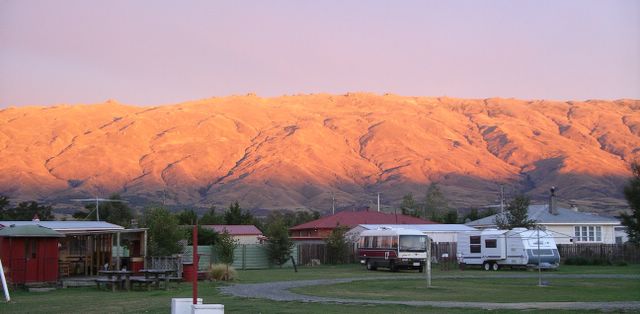 With the hills becoming golden.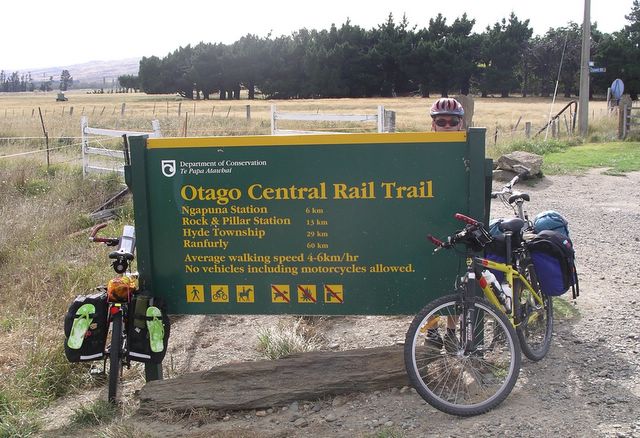 A short 250m ride from "Blind Billy's" saw us at the official start of the rail trail. I made sure everyone knew I was an Aussie by strapping my thongs to the back on my panniers. Hyde Township is a leisurely 29km.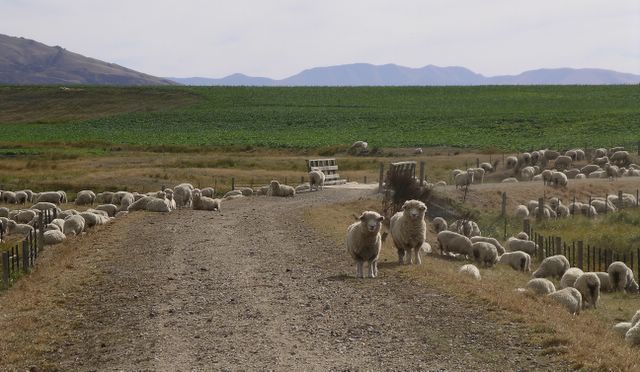 Before long we run into New Zealand's famous sheep on the track. With my 'Cow Whisperer' reputation, I was required by Dilys to take the lead and clear the track of fluffy things.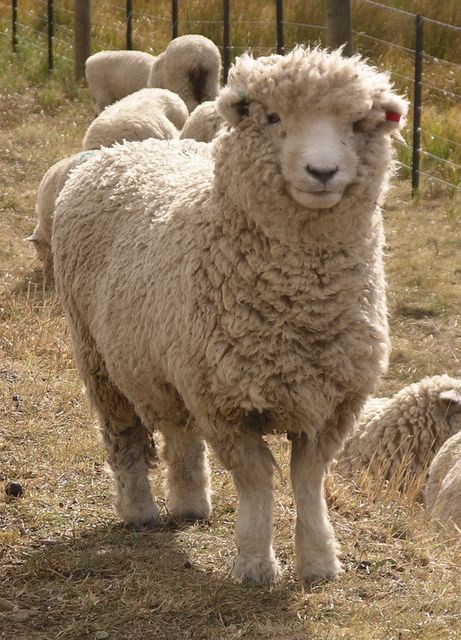 ...but not before I took some pictures of them....Isn't he (she?) cute?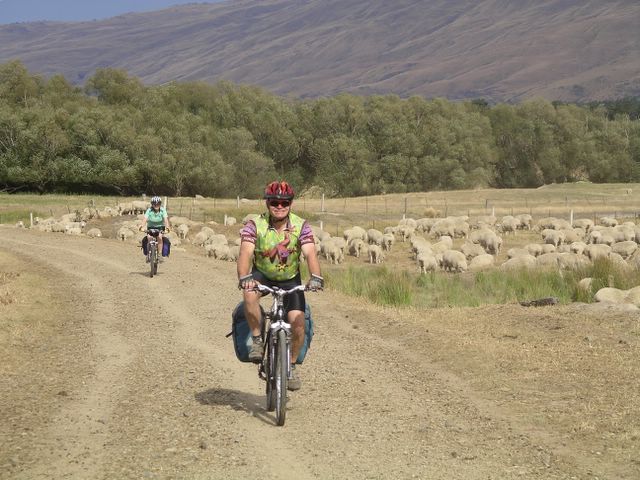 After clearing the track, Rick and Dilys take a carefree ride along the cleared track.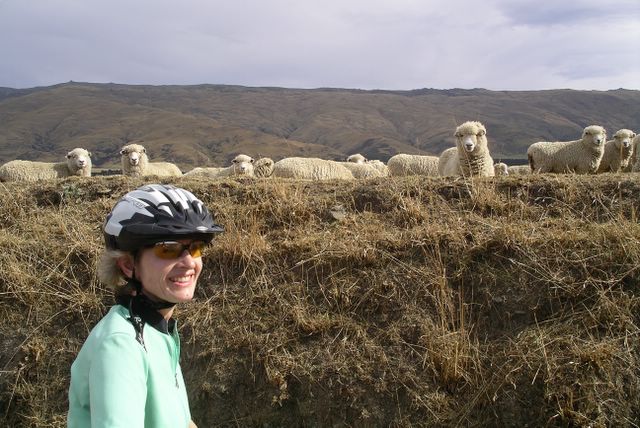 In fact, once the sheep were up on the hill there was no sign of fear... Or is that smile through gritted teeth as Dilys wonders what those sheep behind her are doing?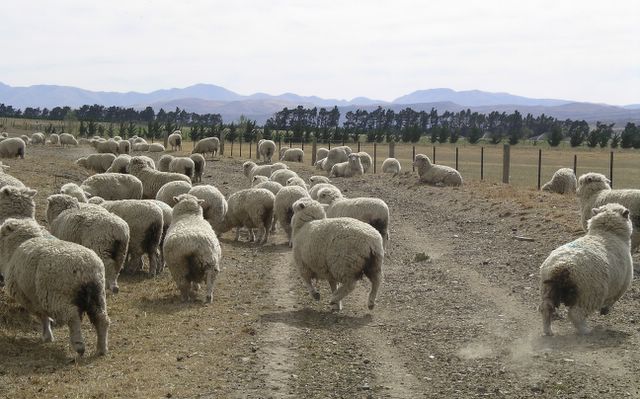 And then I had to get back on to clearing sheep...there was a lot of them...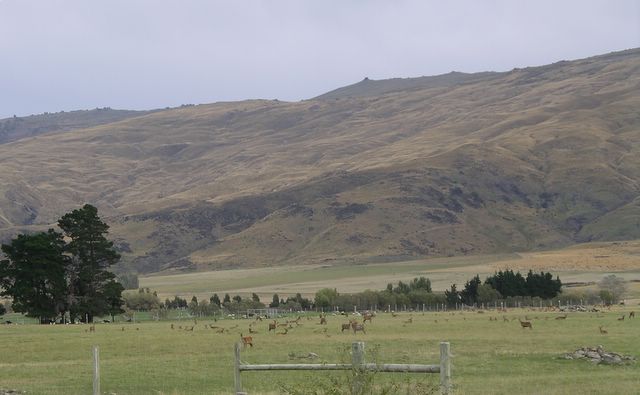 And once we got through the sheep, there was deer....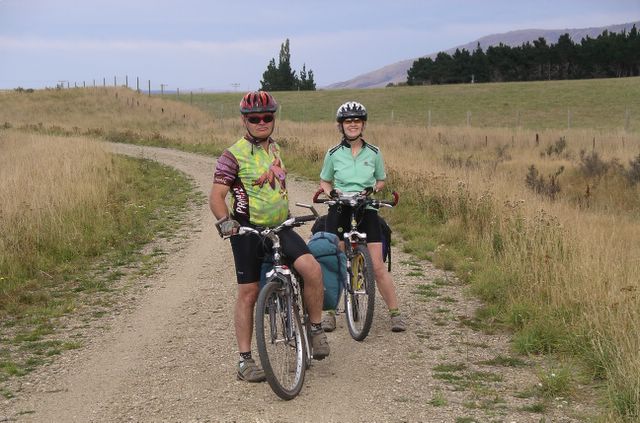 Note the smile on Dilys' face here. This one is genuine.She is still happy here, but before long she will be heard to say "It's the first day and I'm not having fun!" (and I think that was her putting it nicely).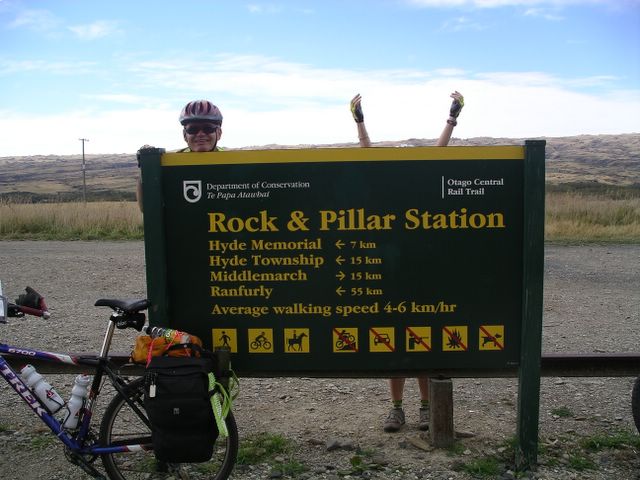 Morning tea at the halfway point, but somewhere along the way the distance appears to have increased by a km. As we move around NZ, it became apparent that Kiwis appear to have a problem with distance mathematics.....I feel that I should point out here that my bike is nicely resting against the sign.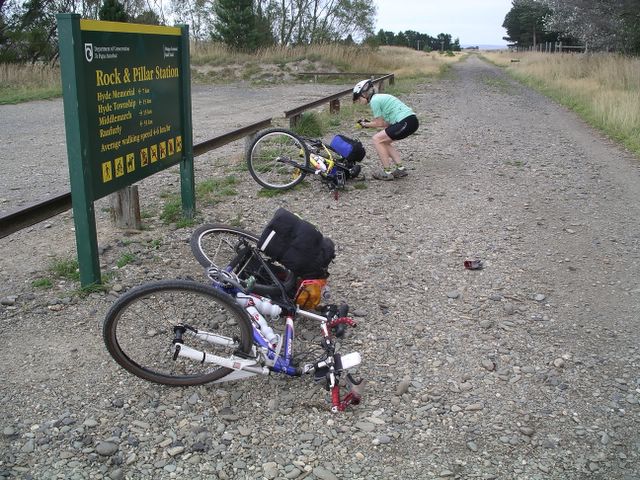 Unfortunately, while reading another sign, the wind picked up. My bike went "crash" first as the wind blew it over, followed by Dilys'.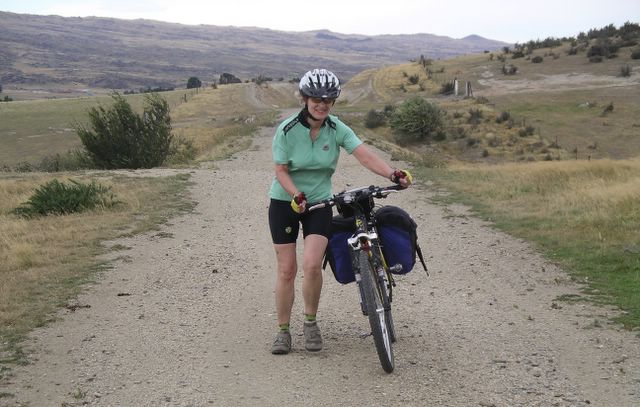 Those gusts that blew our bikes over were just the beginning. Whey is Dilys pushing her bike along a flat section? Well, unfortunately wind does not show up particularly well on film, but let's just say it was windy. Right here, Dilys is just getting to a slightly sheltered spot (where I am taking the picture from). Dilys doesn't like pushing her bike on the side she is on here, but the bike was getting blown away when she had it on the other side. The wind was STRONG. There were several times where we stood at an unnatural angle, dug our feet in as hard as we could and just braced against the wind so that we didn't get blown away.

Three others on the trail were not so lucky. They got blown off the track. One mostly uninjured except for bruises etc. One got a chipped shoulder bone, and the last ended up with both wrists in plaster (different colours!).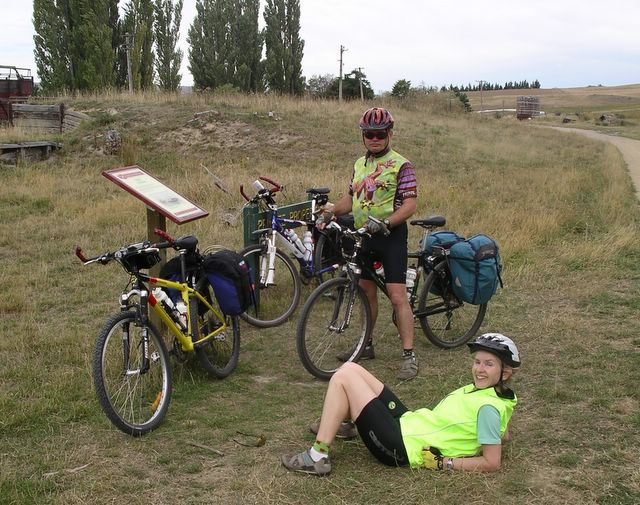 A moments respite - this spot was sheltered and the wind abated for a few minutes so we took a break. Our last 8km's was taking far more effort and time that we ever anticipated.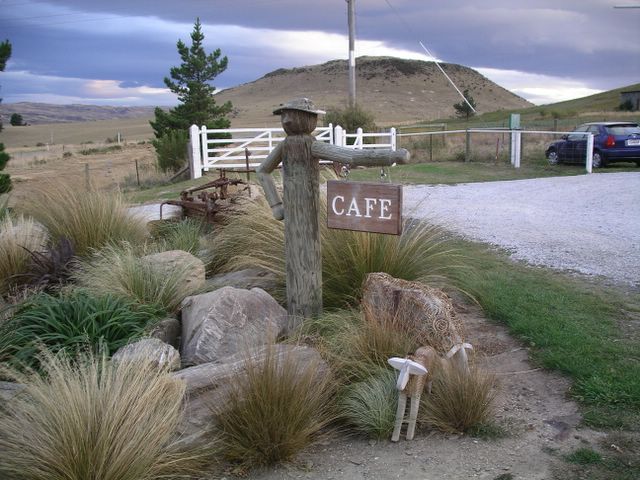 Woohoo! We made it! We spent the rest of the afternoon listening to the wind try and blow the building down.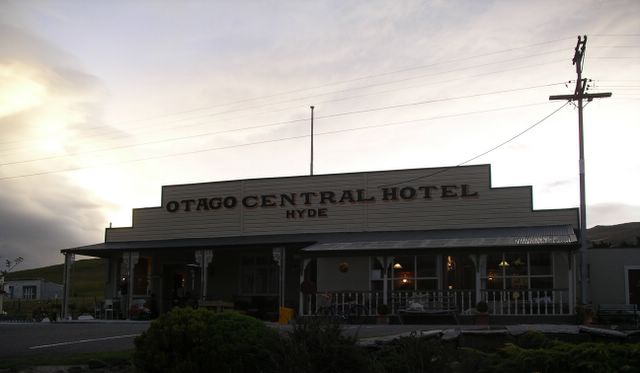 And then, after dinner, the wind stopped. Everything was quiet so we set out to take a look at the 'township' of Hyde. I think 'tonwship' might be a little enthusiastic.The Otago Central Hotel pretty much sums up Hyde township.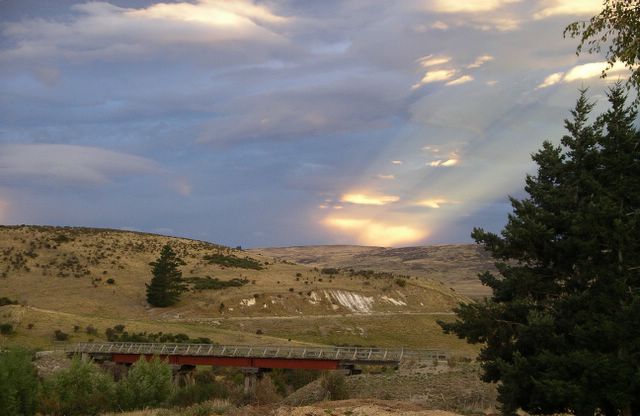 But once again we had a good sunset, so here's more sunset pics....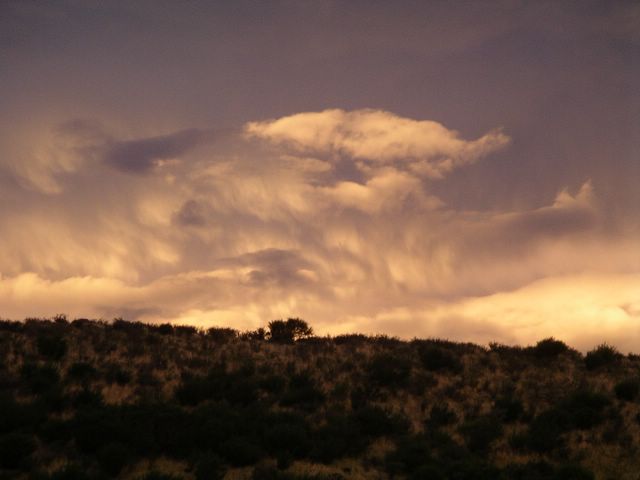 ...and interesting clouds....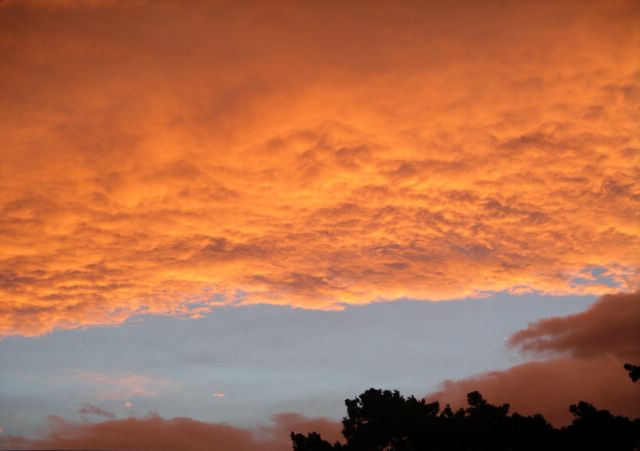 …as the sun sets slowly in the west....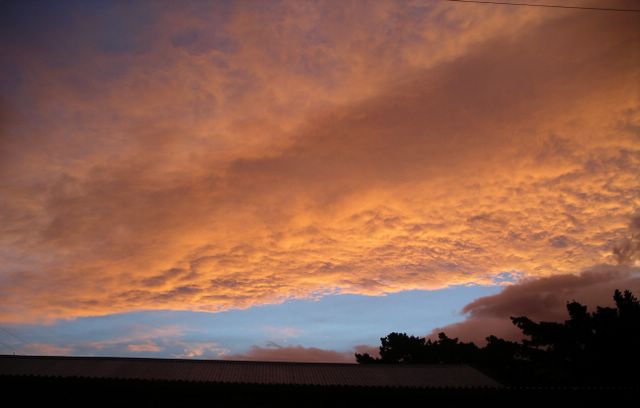 ...I kept taking photos, but I also culled some of these too!