Otago Rail Trail and West Coast Tour
March 11th-24th, 2006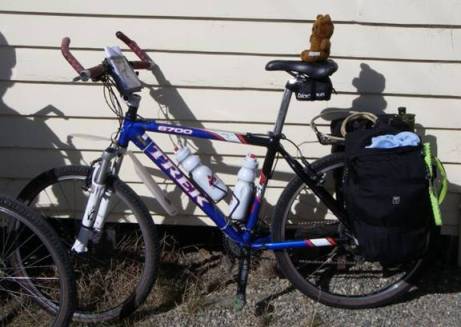 Email Trip Reports
Sydney to Dunedin (Photos)
Hi All,
Yesterday saw us rise around 4:30am (uuuugggghhhhh).It was quite hot still in Sydney;Shower and brekkie and we were on our way to the airport.
Soon we discovered another downside of flying Jetstar - while they list the maximum weight of any item as 32kg, they charge excess baggage over 20kg. $133 extra between us and we were on our way.
Arriving in Christchurch saw the start of the crucial timing. If we didn't get the bike rack, the domino effect would destroy all our plans.
After carefully joining Budget 'fastbreak', so that I could just flash the license and grab the keys, I ended up waiting 15-20 minutes in the queue anyway, and having to do all the usual guff before being directed to a red Commodore."A Commodore?" I queried."Yes, we've upgraded you!""Woohoo" I thought, "a gas guzzler!"
Anyway, made it to the bike shop, got the bike rack, then back to the airport to pick up Rick and the bikes.It only took us an hour to get the bike rack and bikes attached :-)
Next stop was 'lunch'.At 4:30pm, we were all starving!
The trip to Dunedinwas uneventful, and after passing through much dry farmland (odd!), we arrived in Dunedin around 9:30pm.
It was rather CHILLY in Dunedin....
Wendy being Wendy choofed off to bed...
After nothing more than a sheet at home for the last few months, it was weird snuggling under a very thick and having a cold ear and arm if it ventured out.
I obviously slept well however, as it apparently poured through the night, which I never heard, and then I slept through the alarm on my watch going off, and also the repeat alarm 5 minutes later, on the other side of the room however did hear it.
'Encouraged' to get out of bed for an early start, we decided to drive out to the Peninsula while we had the car.;;A few scenic photo stops along the way, and at the end penguins and albatross. We think however that they had all found somewhere sheltered to huddle as it was frigid there, and we didn't see either! Admittedly, we did not make a very extensive search..wind straight from the Antarctic made a mockery of the 'warm' clothes I packed. Much discussion of purchasing a few more warm things before the bike ride...
Next stop, Lanarch Castle (quite interesting) before heading back to town to give the car back. A quick stop to refill the tank convinced us that we should vehemently oppose a vehicle upgrade next week. $82, and the tank wasn't even empty!!
Got to the Budget office to find it closed. Rang the number and they told us just to park it wherever we could find a spot and drop the keys in the slot. Hmmmm. Currently we have it parked outside where we are staying. Tonight, when we got into town for dinner I expect that we will be able to find a much closer spot to the office, and drop the keys in....
Well that's all folks. Getting sick of tapping out words on a keyboard that is maybe 2" x 0.5"
Tomorrow we hop on the train & then start riding the rail trail. Not sure I'll have signal then, so days 3,4,5,6 & 7 may be delayed....
Wendy
---
Dunedin to Middlemarch (Photos)
Hi All,
Amazingly I have access in this tiny town.
Last night we ventured up the world's steepest street. For those of you, who like us, wondered if it was steeper than Dilys' street - YEP! It was steep. Very steep!
This morning started with me getting up first!! After brekkie and much pfaffing around we set off. First stop the botanical gardens where we fed the ducks with the grain provided, the off the station where we offloaded bikes and panniers and went is search of some warmer clothes. I ended up with some trakky daks (tracksuit pants) and top. Dilys got a nice woolen jacket and Rick got a pair of jeans :-)
Next stop was lunch where Dilys and I both had endlessly repeating curry. Bad choice.
The Taeri Gorge Railway trip was very spectacular. I was on the good side of the train, so about halfway I swapped with Dilys so she could get a better look. We then crossed the river and I was once again on the good side so we swapped back again.
4:35pm we were offloaded at Pukerangi. The ride through the farmland was really very nice. Not what I was expecting for NZ scenery - very stark. Dry grass and lots of rock, but really very beautiful.
No prizes for guessing who got the first flat...Lucky we had the strong man with us as watching him trying to get the front tyre off and then back on (it's an exceedingly tight fit for some reason) reminded me of the time I got a flat as I was leaving work and wasn't able to get the tyre off and had to call the sag wagon (Rick) for a pickup.
Anyway, we a now lazing in Middlemarch, fed, showered and now supping on wine...
Wendy
---
Middlemarch to Hyde (Photos)
Today started with a beautiful sunrise. There was a gentle warm breeze from the north.
At we had a short day, I got to have my after brekkie nap. I think that will be my last for the trip.
We set off around 10:30am, warm clothes all tucked away in the panniers and set off for a rather flat ride.
We had a lot of fun riding through a flock of sheep grazing on the track. It is here that I have to say that I do not have the same mesmerising/enticing appeal to NZ cows. Must be only the Aussie ones that flock to me.
We had a short morning tea Break at Rock and Pillar Station (or where it used to be). Both my bike and Dilys' were blown over by the wind that was starting to pick up.
From that point the most memorable thing about the trip was the wind. STRONG WIND! No, VERY, VERY STRONG WIND!!! I came with cm's of being blown off the track down a very steep gully, which was a bit scary. For a while all we could do was stand, bracing against the wind with our bikes, and try to not get blown away.
We ended up walking several sections as it was just too dangerous (and hard!) to ride.
We eventually made it to Hyde however (no prizes for guessing who also got the second flat of the trip).
Right now we are lazing in the lounge of the Otago Central Hotel, with several other cyclist, listening to the wind howling outside and hoping it stops by morning (and that the hotel doesn't blow away!).
Wendy
---
Hyde to Ranfurly (Photos)
Well today has been a sunny and calm day. Feeling rather tired and not an awful lot to report so today's "missive" is short and sweet...
Wendy
---
Ranfurly to Lauder (Photos)
Well I'm weary and there's no signal, but Dilys has convinced me to write so the mail is ready to go as soon as we have signal.
Today we had a cool start. Dressed for riding, Dilys commented that I was very coordinated (shock, horror!). Someone then opened the door to outside and the cold drifted in. On went thermals, raincoat, and a few km's down the road, a second pair of shorts. Very stylish!
Came across a very grumpy publican this morning. Following the sign for visiting the friendly Wedderburn Pub, for coffees etc, we apparently walked past the 'closed' sign.
He did serve us (muttering - particularly when we asked for skim milk). Later he did however apologise for being grumpy.
At the Wedderburn Pub we also ran in to our 'travelling companions' - the two remaining from the party of 5 that got blown of their bikes. Such an odd thing to be surrounded by cyclists at every accomodation place. The rail trail is obviously good for local business.
Today was our longest day, but there was also lots to see. Lunch at Hayes Engineering. Sounds boring, but it wasn't.
I have been getting aquainted with all the animals along the way, giving every cat or dog that crosses my path a pat. Today I had a very affectionate cat that sat On my shoulder happily. I also got rumbled by a 9 month old labrador who was exceedingly excited that I had come over to play.
I haven't been petting the assorted stock we've been passing (sheep, cows, deer, goats), but I have been saying 'hello' to them.
I also got the hat-trick for flats, this time the back tyre though. I'm now looking for the sign which says 'glass magnet' on my tyres.
Dilys has said not to forget to mention the schist rock. Not sure what she wants to mention about it. Maybe that I pondered whether the 'c' and 's' were silent.
This arvo we went through two tunnels and over two bridges. I could include a photo of some of the nice scenery, but instead I have included a sign that did make us wonder when we saw it. What exactly should we do? Duck?
Wendy
P.S. As there's no signal and the mail is waiting in the outbox, I can add that Dilys managed to get sunburnt legs when she stripped off in the arvo when the sun came out. She sunscreened her arms but forgot her legs. I on the otherhand never got that warm, so remained covered.
P.P.S. Can I go back to bed now? I've had my brekkie...
---
Lauder to Queenstown (Photos) and Queenstown to Makorora (Photos)
A combined one today. Too tired to write yesterday. Yesterday was our last day on the trail. Another cold start, so pulled into another pub for a cuppa after 15km. Just so you don't think we've visited all these pubs and not bought any beer, I'll admit to having one one afternoon at some place starting with a 'w'.
I must admit the riding days have merged a little together. Can't recall the specifics of the last day, but I do recall that in the true tradition of Wendy's Cycle Tours, we rode past a winery and tasted their wares. Somehow managed to shove a bottle of pinot in my pannier. We'll be having that tonight with dinner.
After a leisurely ride we got to the trailhead (trailtail?) at Clyde around 4:30pm. Locked our bikes and strolled into town to get our other bags. Sadly, no one told us that as the town had sprawled, they moved the beginning/end of the trail to make way for houses. After wandering for about 3km through suburbia, we asked a passerby where the motel was that had our gear. Fortunately it was only another 500m or so, but that was plenty far enough in bike shoes!
Got back to the trailtail and relaxed on some lovely green grass while waiting for the bus. 5 minutes later we all bounded up as the sprinklers rose up out of the ground and started watering us. It has been glaringly obvious that New Zealanders are not concerned about water. Sprinklers, dripping taps, etc, etc. So weird.
Bus trip to Queenstown was very scenic. Today has been more of the same. Ho hum. A day full of mountains and lakes. We went through a lot of the "Lord of the Rings" locations, but saw no hobbits. I dutifully stopped regularly to record the trip on the memory cards on my camera, as although I have a photographic memory, I haven't found a card to fit..
Tonight we are having to put up with even more! We are staying at Makarora Wilderness Resort "Secluded bush setting with panoramic mountain views". "Resort" is possibly, a bit extreme, but we have beds and cooking facilities and this terrible scenery to absorb.
Tomorrow we go across Haast Pass and over to glacier country. I expect we'l have to put up with even more stunning scenery.
It's tough, but someone's got to do it...
Wendy
---
Makorora to Lake Paringa (Photos) and Lake Paringa to Whataroa (Photos)
Well signal has been pretty light on on the West Coast hence the delay in reports.
Now, what have we been doing? Yesterday seems so long ago...
I believe I last reported that we were putting up with being surrounded by bush and mountains.
The morning gave us some golden mountains as the sun hit them. We drove across the Haast Pass stopping often to take many photos (for those of you who are close enough, we will bore you with bucketloads of photos when we get home).
Haast Pass was so incredibly different from the other pass we went across thday beforehand. The first was grass covered mountains, while Haast is all rainforest. Both were very beautiful in different days.
Once we reached the west coast, we headed south to Jackson Bay, and then back north again, stopping once again in the middle of nowhere, by Lake Pukerangi. All along the west coast the trees are bent inland. Obviously there is more often than not an onshore wind, but we has a beautiful day. Bright and sunny with barely a breath of wind. At Pukerangi, we had some local fishermen in the cabin beside us. We ended up spending the evening chatting with them (and drinking their alcohol).
This morning dawned grey and rainy. We first went to Fox Glacier where they strongly advised that anyone with knee problems not do the glacier walk. After getting more info I decided that I probably shouldn't do that one. We did the walk to the face of the glacier, which was rainy, and rather cold right at the face (wind off the ice). On the way back, both Dilys or Rick groaned when I said "rain, rain, moraine". Not even a little chuckle...sigh... Next stop was Franz Josef Glacierwhere we also walked to the face. On this walk there wasn't much rain until we got right to the face, and then it was blown directly towards us. Made photo taking challenging.
Next challenge was finding accomodation. All the cheap stuff was gone, and we are now once again at a tiny place - Whataroa. We had to pay $120 tonight, but we have an ENORMOUS 2 bedroom place, so that was a nice surprise. Turns out that this used to be a maternity hospital which explains why our 'room' has an entrance hallway, a hallway between bedrooms, bathroom & kitchen, and a bathroom big enough to swing several cats.... Dinner tonight is Wendy's famous Minestrone Soup, minus a couple of crucial ingredients, but I'm sure it'll be fine. We're a tad sick of pasta with sauce...
Chau!
Wendy
---
Whataroa to Greymouth (Photos) and Greymouth to Christchurch (Photos)
Well this one's going to be short and sweet as I feel like I've run a marathon.
Obviously tempting fate yesterday I commented to Dilys that I normally only had dry toast and vegemite after I'd had food poisoning. By yesterday arvo I had food poisoning... We checked into a motel and I sent Rick and Dilys off to see the sights while I crashed. Today we (Rick, Dilys and the zombie) went to Pancake Rocks, and then back across Authurs Pass to Christchurch.
While my tummy is still churning, I am starving now, and based on a childhood of regular food poisoning, I know this is a good sign.
Rick & Dilys have gone to the supermarket to get a few things, so I'll have a little bite of something safe to eat when they get back.
I am hoping that I feel close to 100% tomorrow as I've booked to go swimming with the dolphins "there is only one place on the planet whe you can swim with the world's smallest and rarest dolphin - the Hector's dolphin" (www.swimmingwithdolphins.co.nz). This didn't appeal to Dilys or Rick (!?!?! - I can hear Marlene saying 'take me, take me!') so we are all doing our own thing tomorrow before flying home very early on Friday.
Wendy
P.S. Several of you have written (thanks!), but with signal, PDA only, exhaustion, etc it's hard to reply now, but I will when I get home.
---
Akaroa - Swimming with Hector's Dolphins! (Photos)
---
Rakaia Gorge / Brighton Beach (Photos)